Riola, centre of world motocross
January 18, 2013
Motocross starts again from Riola. From here starts the great spectacle of the International season and the preview on the world one, here the Teams of the champions begin to "pull" the preparation for the season that is going to start.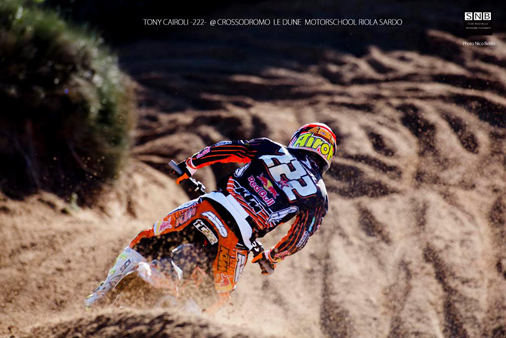 Tony Cairoli (6 volte campione del mondo)
Here in Riola, there is the centre of the world Motocross. The track is an unique location: the terrain and the clima are combined in a perfect alchemy.
OffRoad Pro Racing starts from Riola, and from the Sardinian track we have received the pictures of the training sessions of KTM Red Bull Factory Racing, Honda Martin Racing Technology, KTM Marchetti Racing and Honda Gariboldi.
From here starts again the grit of the six-time World Champion Antonio Cairoli, from here starts the determination of David Philippaerts, from here starts the amazing comeback of Maximilian Nagl who, in the 2012 season, gave the good shot of who wants to win.
The Team Yamaha Monster Energy coming in a few days and in Riola will make its season debut with Stevan Frossard, Joel Roelants and Christophe Charlier and they will line up on the starting-grid of the first Round of the International Italian Championship.
Check IT OUT on Facebook page Facebook OffRoad Pro Racing GSX the exclusive images of the training sessions on the track of Riola!
Here the link of the PHOTO GALLERY.
On our site www.offroadproracing.it are online all the information concerning the Championship, the entry list and the conditions of participation. There will be also a section with LIVE RESULTS race by race.